Learn how to needle felt - or level up your skills -
with me as your guide.
Whether you describe yourself as a maker, artist, crafter, sculptor, or a person who likes to create things with your hands, it feels good to develop mastery of your tools and techniques so you can create the forms you envision. In this workshop I present direct, clear, knowledgeable information and examples that will significantly improve your needle felting. This is a techniques-based class; move beyond working from a kit or following along with a guided felting project--instead learn the skills to make it your own.
This online video workshop provides 11 hours of well-organized, subtitled video content in the main workshop, plus 13 additional hours of 'Special Projects' that share the artist's-eye view of creating 6 sculptures.
Here's a quick overview to give you a sense of the topics I'll cover and my teaching style:
This class is for: All levels.
Class starts: Any time, on your schedule.
Tools & Materials: Learn which work best and where to get them.
Accessibility: Stream or download, closed-captioned videos, yours for life.
Time commitment: Over 24 hours of video lessons, available at your own speed.
Outcomes: Improved skills and confidence to effectively and efficiently achieve the results you crave.
Satisfaction: 100% money-back guarantee if you're not fully satisfied within the first 30 days.
Choose the payment plan that works for you: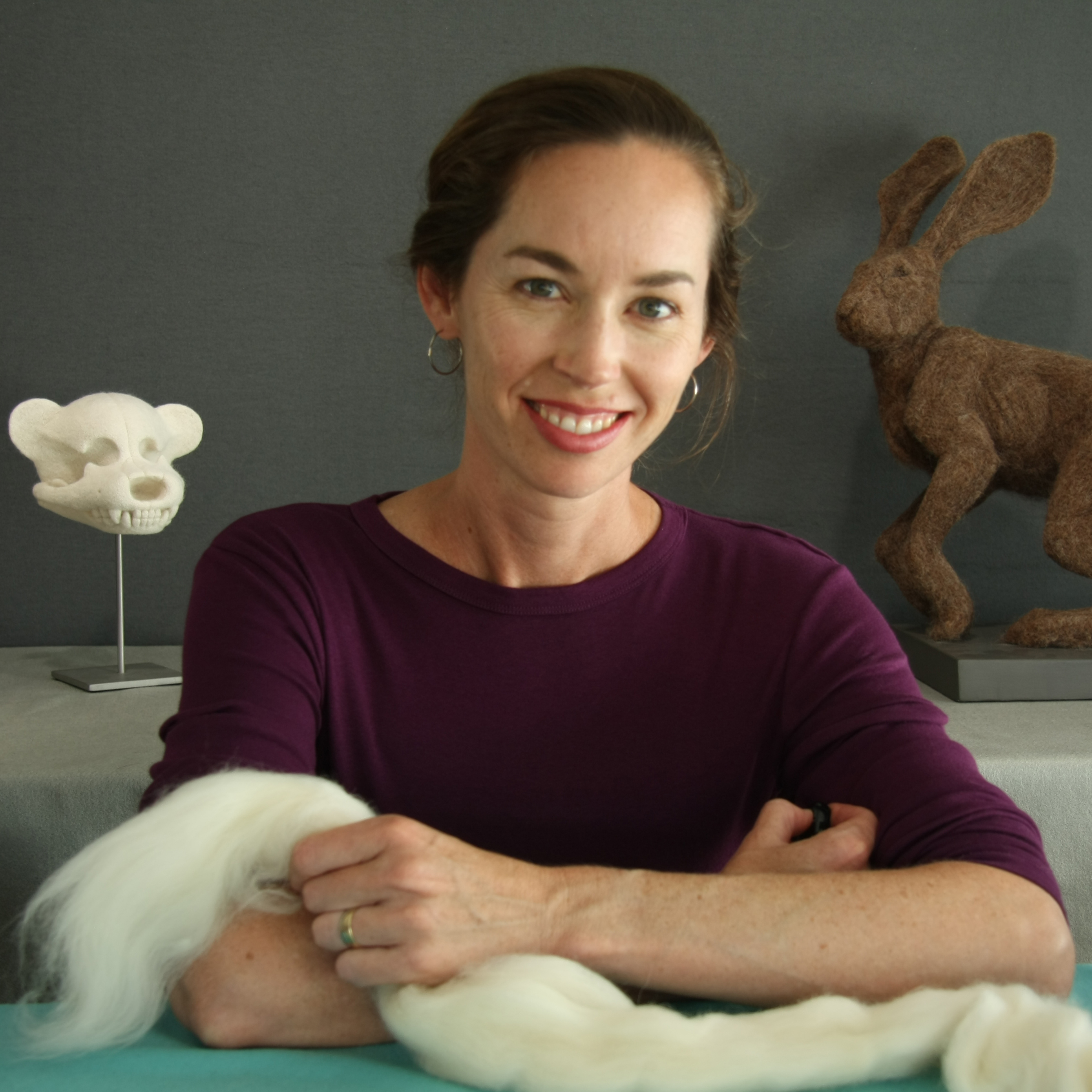 I'm Stephanie Metz, an internationally-exhibiting, classically-trained sculptor involved in a long-term relationship with wool and felt. It all started when a friend shared an article about wet felting. When I went to a yarn shop, introduced myself as a sculptor, and announced my intention to try felting, the proprietor took one look at me and instead directed me towards a book on needle felting. I went home to try it and was instantly hooked (or maybe poked?)!
19 years into needle felting I'm still excited and amazed by the process and possibilities of this art form-- and I love sharing my knowledge and experience. My goal is to demystify needle felting and make it accessible and understandable.
As a working artist (www.stephaniemetz.com) and mom, teaching in-person workshops is a luxury that happens only a few times a year, but I know from my waiting lists and online community that there's a huge desire to learn about my approach to needle felting-- and a lot of shared frustrations that I can help remedy. Needle felting isn't fast and it isn't easy, but, with patience and knowledge, it is incredibly satisfying. Welcome to my video school!
Past Student Testimonials
Video Workshop Students:
"I liked your teaching style. Your presentation is smooth and even. Your explanations are very clear. What I see onscreen is very clear and easy to follow... But of course, the best part was that I learned things I've wanted to know. I'm not a rank beginner at needle felting, so I wouldn't take most needle felting classes. I've seen other classes advertised where the teacher's work was nice, but not enough better than my own to bother. Yours stands above, so I was confident I'd learn new techniques - and I did. "
-Carol Listenberger
"My attention was first caught by your InTouch sculptures which I admired so much. When I learned that you would launch an online class I knew that I wanted to participate. Living in Germany I would never have a chance to do a live workshop with you. With the very detailed and in-depth explanations I mastered all the different needle felting techniques and I had so much fun. All your knowledge is shared so freely and in the videos it is presented in a very appealing way. The videos show each step very clearly and I am sure students of all levels will benefit from your deep knowledge. After taking the class my own work will definitely be of higher quality."
-Karin Schleicher
In-Person Past Students:
"Sometimes, we can fall into a trap of assumptions. I knew a couple of friends who had crafted cute felted objects, and without much thought I assumed that must be about the extent of felting. Then I met Stephanie Metz. Her quick wit and sly sense of humor underpin a transformative approach to felting. Through her lens, it suddenly becomes possible to envision the vast and exciting potential of sculpting with wool. Her technique is disciplined and sophisticated, her attitude is playful and inventive, and her results are powerful."
- Benjamin Mefford
"There are many videos about needle felting online, but Stephanie has a unique take on needle felting, taking it beyond the crafting realm and turning it into art. Learning this technique from Stephanie took my art into a whole new direction. For anyone looking to explore this medium, either seriously or for fun, I highly recommend Stephanie Metz." 
- Lisa Glicksman
"Stephanie was a patient and warm teacher and she taught techniques that I haven't seen elsewhere. But more importantly she taught me that felting could be an art form capable of a range of expression. She is a very talented artist and her class changed my perspective on fiber arts. I have continued to use the techniques she taught me, even years after taking her class."
- Fiona Carswell
"I was a confirmed wet felter before taking Stephanie's class. I soon realized that more potential for creating detailed, high quality felt objects and sculpture was possible through using the barbed needle. Now I combine both techniques. Stephanie is very patient, kind, and fun. She knows that anything is possible to make from wool and is willing to share her wealth of experience, skill, and knowledge."
- Susan Walker
"Stephanie is a wonderfully inspiring teacher. She is patient, clear, supportive, fun—she makes the whole learning process exciting rather than painful (except for the needle pokes, of course)." 
- Laura Schwartz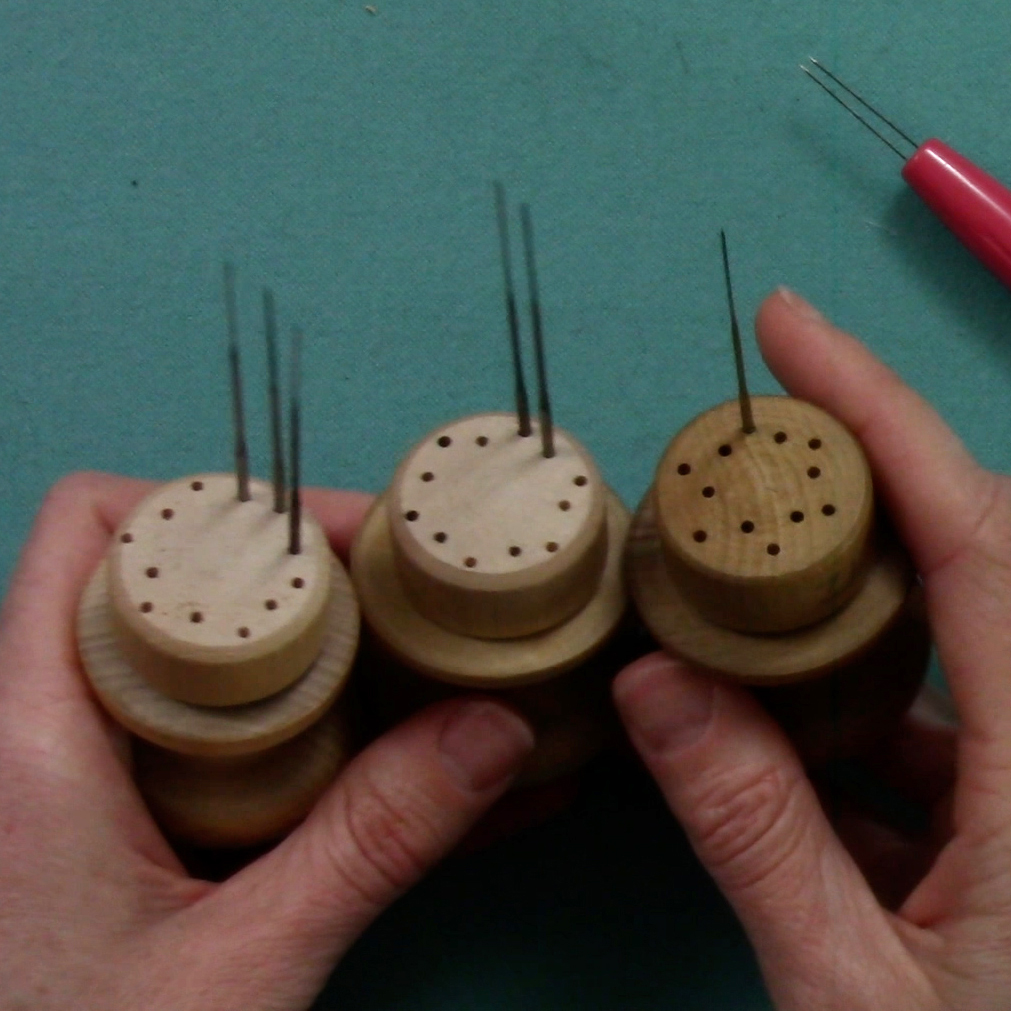 Tool Mastery
Become an expert with your tools by truly understanding how they work and how you can make them work for you efficiently.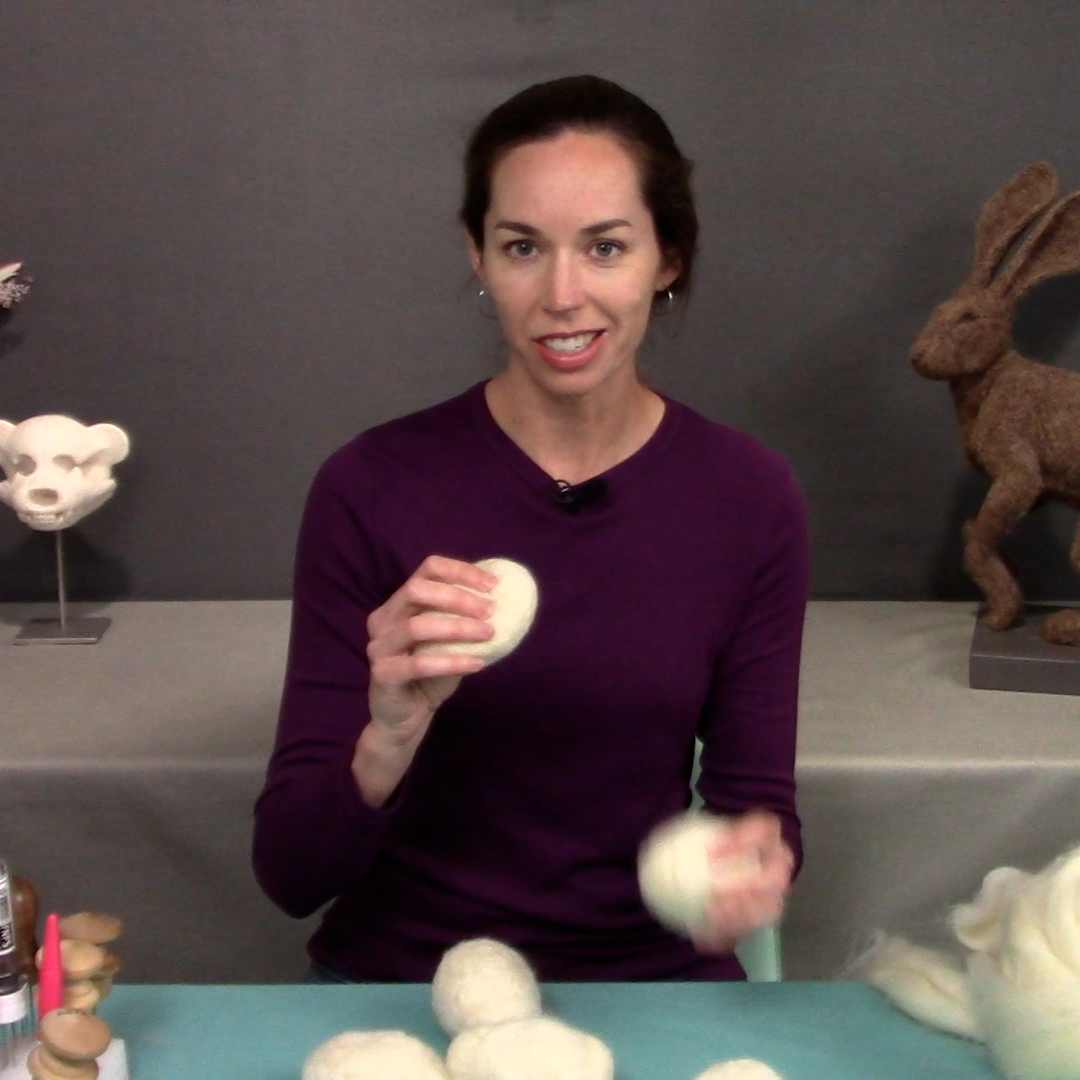 Form Building
Learn the fundamentals of building form, troubleshoot common problems, then proceed through different shapes with confidence.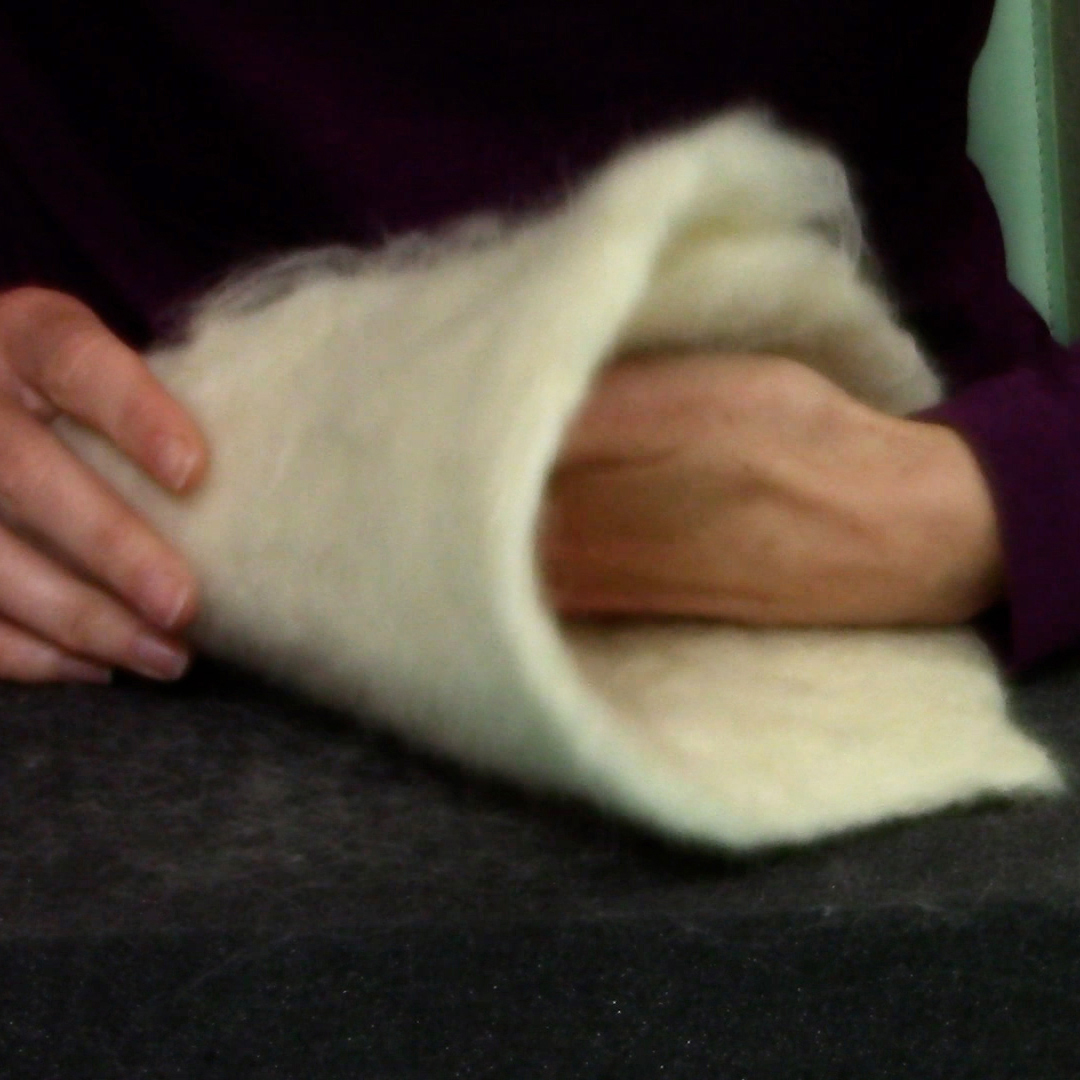 Explore Mass
Create both solid and hollow forms that hold their shape. Learn how density is your friend when needle felting.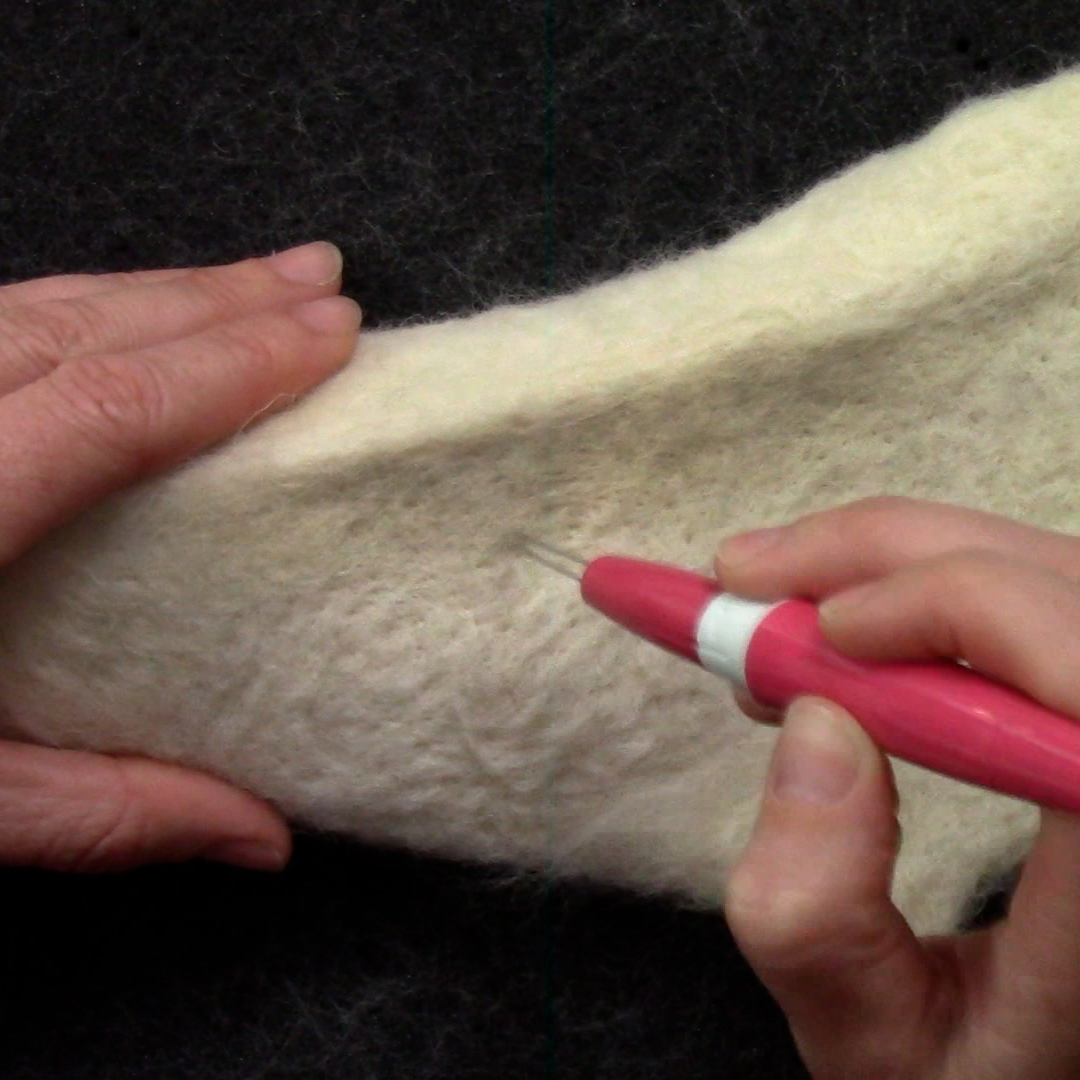 Focus on Details
Learn multiple approaches for achieving details like crisp, clean edges and ridges, folds and creases.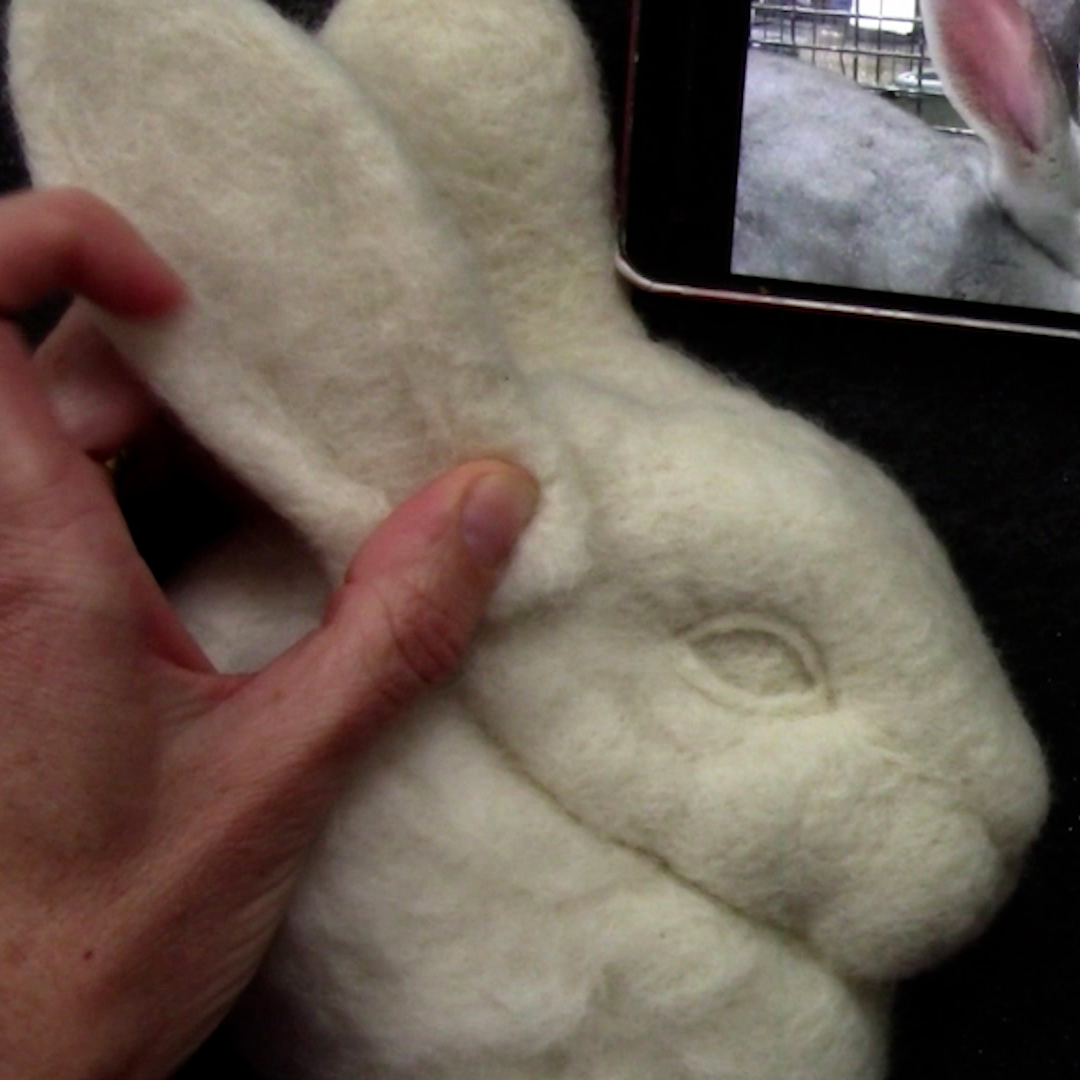 Put It Together
Join simple shapes to make complex sculptures, and learn how forgiving and changeable felt can be.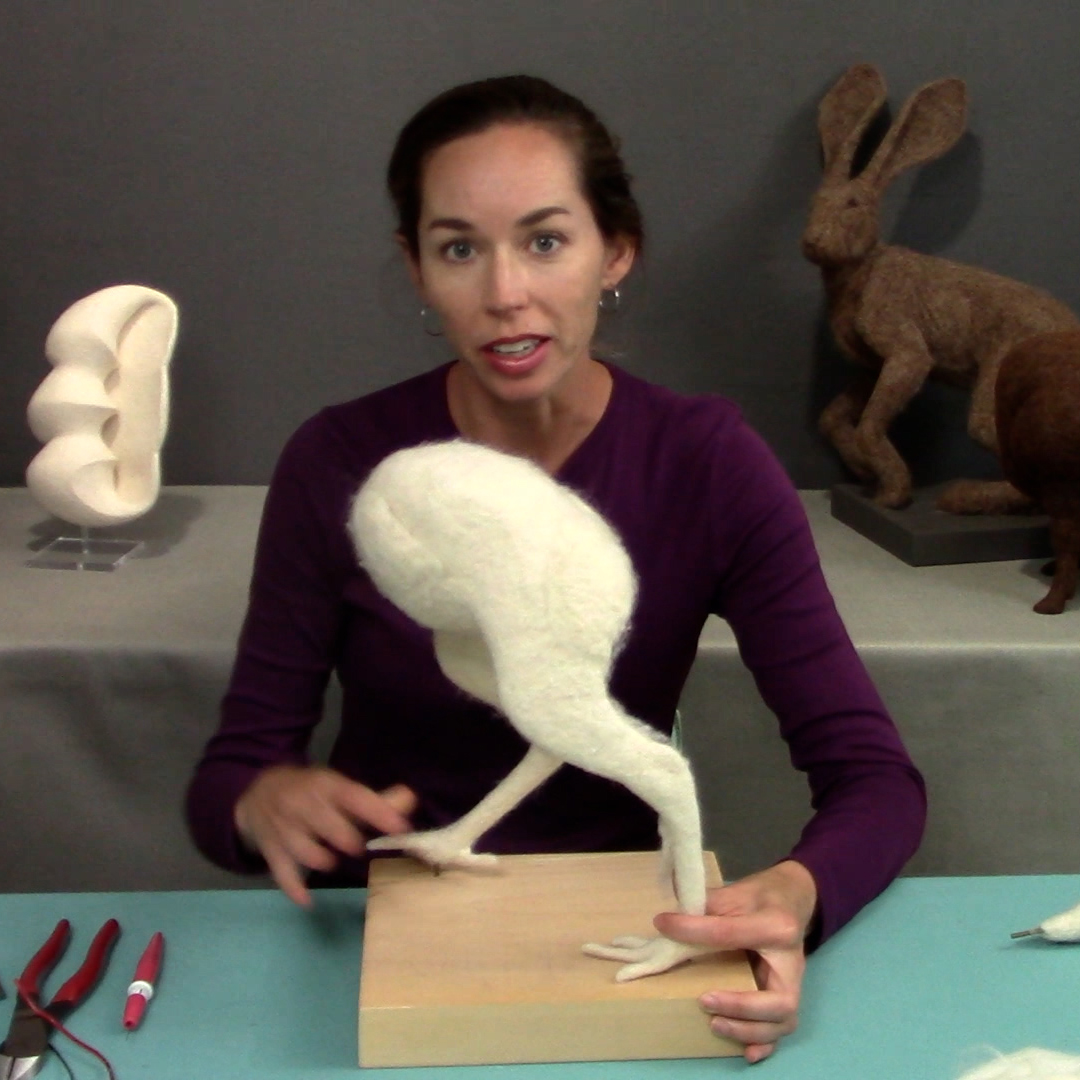 Discover Support
Learn about armatures and other internal and external methods for supporting and presenting felt sculpture.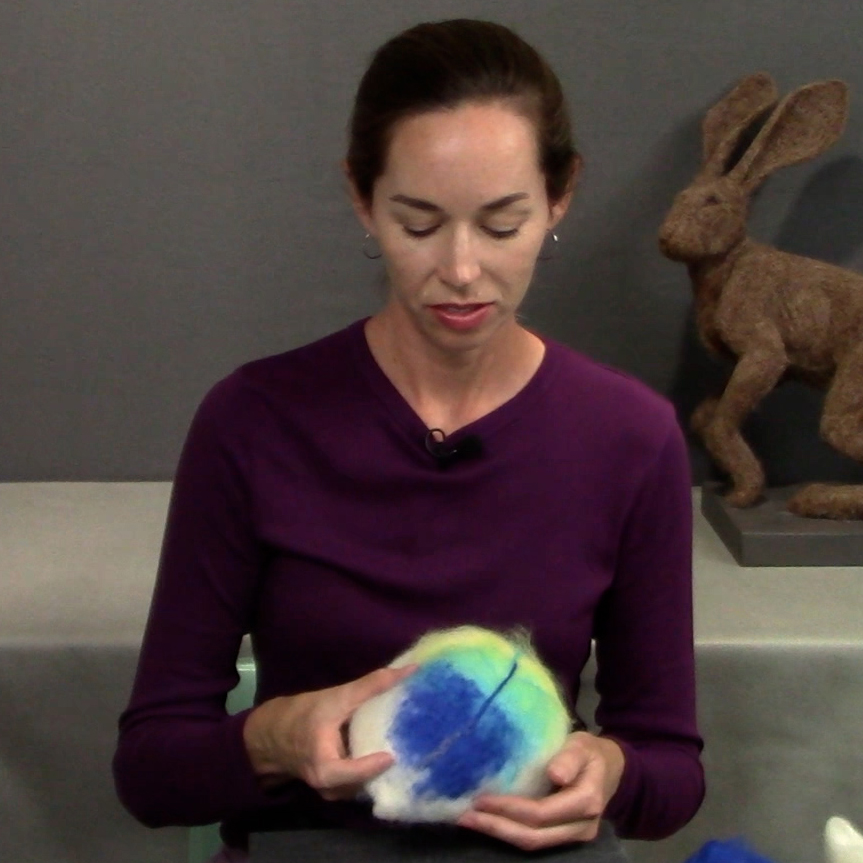 Explore Finishes
Learn how to apply color and integrate mixed media into your felt sculptures.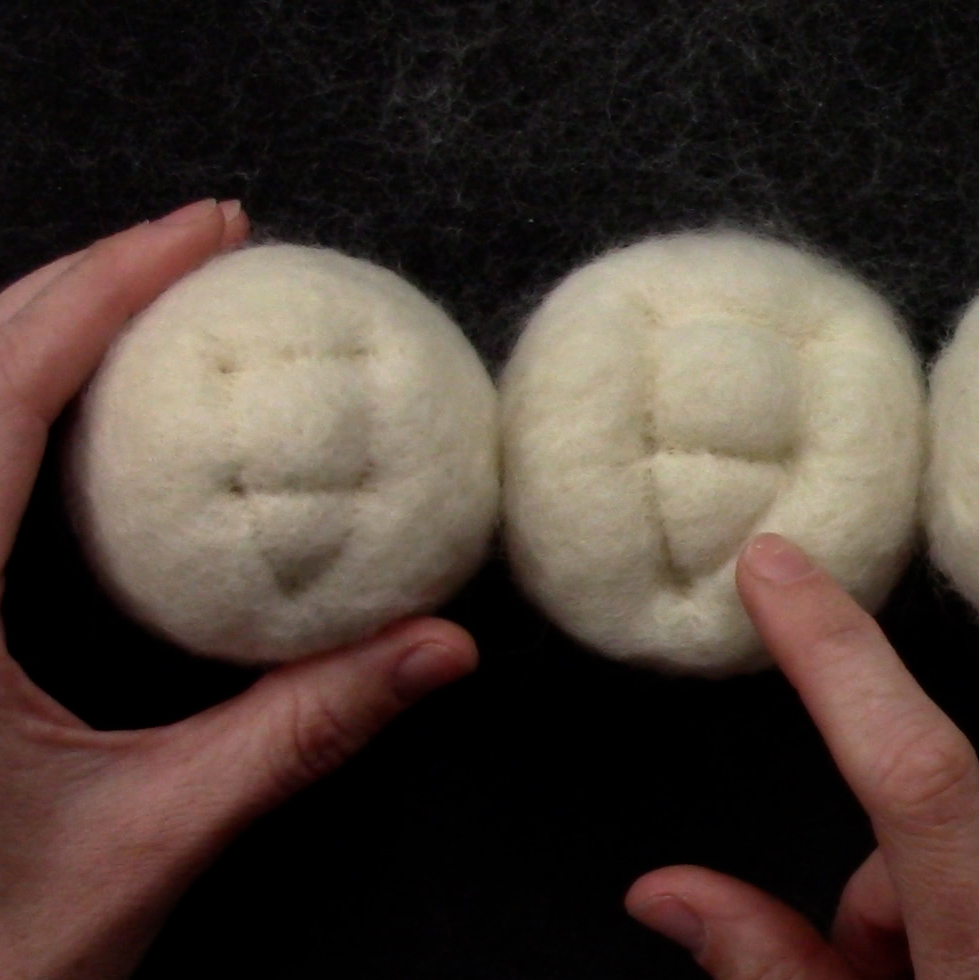 Make It Smooth
Learn how to achieve the smooth, even surface finishes my work is known for.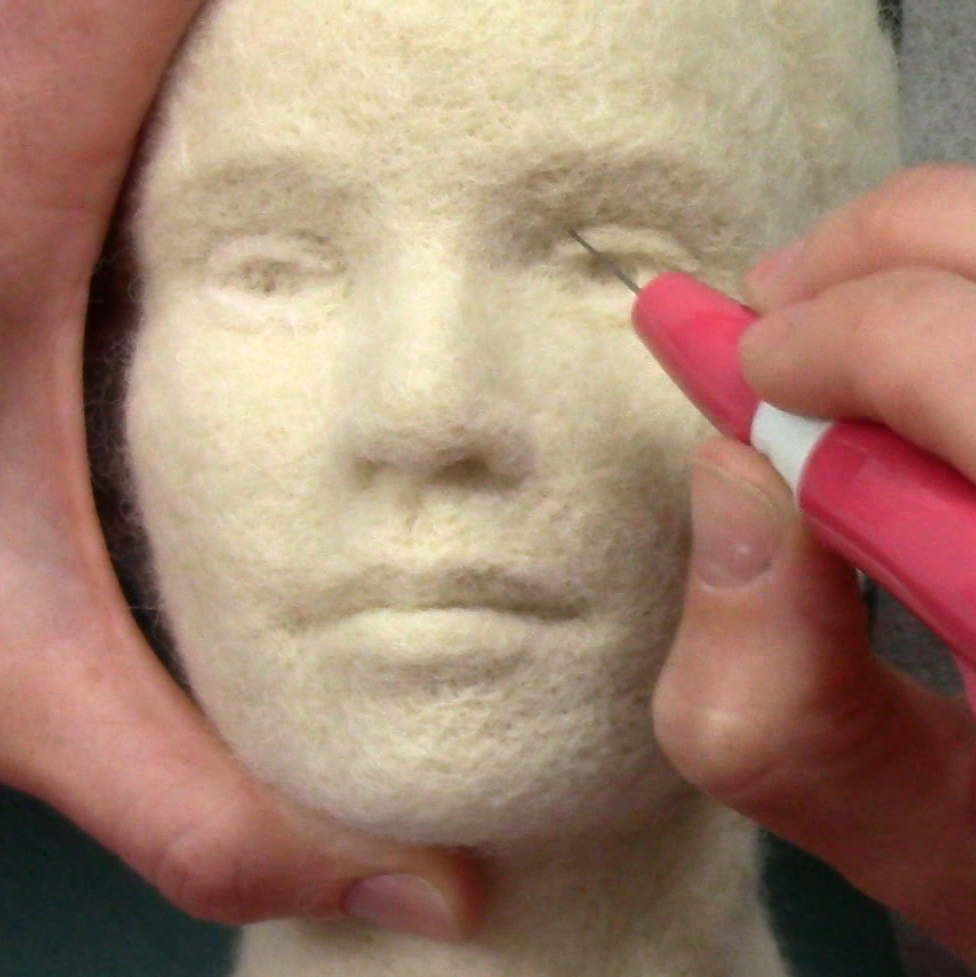 Bonus Projects
For those who like concrete examples, watch the progress of specific projects that walk you through my creative process from start to finish.
What You'll Need:
In the first few sections I'll guide you through the tools and materials you'll need. If you don't already have them, the basics are:
Felting needles, qty 5 (I prefer 38 gauge Triangle needles)
Wool, 8 - 16 oz (I prefer Corriedale prepared as roving or batting)
A work surface: a foam pad or brush felting mat
A multi-needle holder (many are available and will be compared in class; get a free preview of that section on YouTube here:
Your approximate cost for these tools and materials will be about $60-$120 depending on your sources and the multi-needle tool you choose
See 'FAQs & Help' in the upper right for more questions and answers about this course.
Choose the payment plan that works for you: